Gov. Arnold Schwarzenegger Fights Global Warming

Schwarzenegger Signs Tough Anti-Global Warming Bill
Standing on picturesque Treasure Island with San Francisco's skyline in the background, Schwarzenegger called the fight against global warming one of the most important issues of modern times.
"We simply must do everything we can in our power to slow down global warming before it is too late," Schwarzenegger said during an address before signing the bill.
San Francisco Mayor Gavin Newsom and New York Gov. George Pataki, as well as Democratic legislators, joined Schwarzenegger for the high-profile ceremony. British Prime Minister Tony Blair, who struck a deal with Schwarzenegger over the summer to develop clean technologies, joined the ceremony via video link.
Blair called the bill-signing "a proud day for political leadership" and "a historic day for the rest of the world, as well."
California's efforts on global warming have been in the spotlight since Schwarzenegger and the state's legislative Democrats reached an accord last month on the Democrat-authored bill to cut greenhouse gases.
The negotiations culminated in the last week of the legislative session, handing the Republican governor a key victory during an election year in which he has sought to portray himself as a friend to the environment.
On Wednesday, Schwarzenegger called the bill signing a historic occasion.
"It will begin a bold new era of environmental protection in California that will change the course of history," he said.
He expected other states, the federal government and even other nations to follow.
"I'm convinced of that ... because nothing is more important than protecting our planet," he said.
Schwarzenegger's Democratic opponent in the November election, state treasurer Phil Angelides, also supports the new law.
It imposes a first-in-the-nation emissions cap on utilities, refineries and manufacturing plants in a bid to curb the gases that scientists blame for warming the Earth. Two years ago, a state board adopted tight regulations on automobile tailpipe emissions, an initiative that is being challenged in federal court by automakers.
Schwarzenegger also was expected to sign a second Democrat-sponsored global warming bill with consequences beyond the state's borders. That bill will prohibit California's large utilities and corporations from entering long-term power contracts with suppliers whose electricity sources do not meet the state's greenhouse gas emission standards.
The measure by Sen. President Pro Tem Don Perata is intended to force coal plants in the western U.S. to install cleaner technologies.
California's efforts to cut greenhouse gas emissions from industry and automobiles are part of a goal to reduce the state's emissions to 1990 levels by 2020, an estimated 25 percent reduction. California is the world's 12th largest producer of greenhouse gases such as carbon dioxide, methane and nitrous oxide that are trapping heat in the Earth's atmosphere.
Schwarzenegger issued an executive order in 2005 calling for an even more ambitious reduction — cutting the levels of greenhouse gases to 80 percent below 1990 levels by 2050.
In an interview Tuesday with The Associated Press, Schwarzenegger described the emissions-cap bill as one step in a long-term strategy by the nation's most populous state to combat global climate change. He said the state should further reduce industrial emissions and adopt initiatives such as placing greater emphasis on renewable energy and hydrogen-fueled cars.
The industrial emissions cap has been praised by environmentalists as a step toward fighting global climate change, but business leaders have warned that it will increase their costs and force them to scale back their California operations.
Schwarzenegger said it is possible to protect the environment as well as the state's economy. He expects the law will lead to a new business sector in California devoted to developing the technologies industries can use to meet the tougher emission requirements.
"We can save our planet and boost our economy at the same time," the governor said.
GLOBAL WARMING NEWS
COURTESY OF THE EPA
A new study reports that the outermost layer of the atmosphere has become less dense during the past 35 years, most likely as a result of cooling due to increased atmospheric carbon dioxide levels.

Known as the thermosphere, this layer of the atmosphere begins about 90 kilometers (60 miles) above the Earth's surface, and is the region where many communications satellites maintain their orbits. Although the atmosphere is extremely thin in the thermosphere, it still has enough density to exert a drag force on satellites, causing their orbits to slowly decay over time.

John Emmert of the Naval Research Laboratory (Washington, DC) and colleagues used data about the changing orbits of 27 space objects that had been in orbit for at least 35 years to determine how much drag was acting on them at any given time. For all 27 of the objects studied, their results indicate a long-term decrease in the density of the thermosphere, amounting to about 10 percent during the past 35 years.

Computer models simulating the effects of increasing greenhouse gases in the Earth's atmosphere project a similar decrease in the thermosphere's density. Although carbon dioxide traps heat in the lower layers of the atmosphere, it has a cooling effect in the higher layers where it acts to more effectively radiate heat back to space. As the upper atmosphere cools, it contracts, bringing lower-density gas closer to the surface of the Earth, and resulting in a decline in density at any given height in the atmosphere.

A decrease in the density of the thermosphere will have mixed blessings, the scientists say. Although it will allow orbiting satellites to stay in orbit longer, the amount of potentially damaging space debris will increase since it will also be able to stay in orbit for a longer period.

The research appears in the 5 February 2004 issue of the Journal of Geophysical Research.

TIPS ON COMBATTING GLOBAL WARMING COURTESY THE E.P.A.
Climate Smart Tips to Protect the Earth

Did you know that there are many areas of your life where you can take smart actions that will save you money while helping the environment? Some are things you can do inside your home, others outside in your yard, when you're at the store, while you're on the road and even when you're considering major investments. In fact, there are things you can do anywhere and everywhere.

These climate smart money-savers will reduce your use of energy and the resulting emissions of carbon dioxide-a major contributor to global warming-and other atmospheric gases that trap the heat of the Earth. Even if you do only about one-third of the actions on this list, you can reduce your emissions of heat-trapping "greenhouse gases" like carbon dioxide by 12,280 pounds per year.

Today, the United States pumps more carbon dioxide into the atmosphere than any other country in the world. Each of us contributes about 22 tons of carbon dioxide emissions per year, whereas the world average per capita is about 6 tons.

The good news is that there are many ways you and your family can help reduce carbon dioxide pollution and improve the environment for you and your children.





WHITE BUFFALO NATION
CALLS FOR A GLOBAL ENVIRONMENTAL
WATER SOLUTIONS
SYMPOSIUM ON
SUSTAINABLE WATER GENERATION SYSTEMS
TO ELIMINATE WATER-BORNE VIRUSES
AND GLOBAL DEATHS FROM LACK OF WATER
AS WELL AS POTENTIAL SOLUTION TO WATERS
RISING FROM GLOBAL WARMING.
September 16, 2006 05:54 EST
Crescent Valley, Eureka, Nevada
Lisa J. Wolf, Global News Correspondent
The Nevada non-profit, the WHITE BUFFALO NATION Inc. (W.B.N. Inc.), recently commended by Senate Minority Leader, Senator Harry Reid of Nevada with a Senate Commendation for hosting the 2006 TAKE PRIDE IN AMERICA Eureka, Nevada Pony Express Celebration) is calling a Global Water Council, inviting the President and White House Staff; James Connaughton of the White House Council on Environmental Quality. W.B.N. has the technology of atmospheric water generation domes that cleanse the air and give pure fresh water.
The President of the White Buffalo Nation, James Vagarasoto II, whom Senator Reid commended personally, has a practical solution for water-borne diseases that have plagued the globe and will be able to produce water with pure water bottling plants; plants that in the process will clean the air and produce pure quality water or eliminate heavy metal poisons, just pure light H2O, completely eliminating air-borne and aqua-borne cross-contamination viruses, heavy metal poisons in schools, hospitals, and government buildings, a solution to terroristic threats on public water systems. International water shortages, and issues of transporting ground and surface waters within the state of Nevada can be solved. A solution to the proposed SNWA White Pine to Las Vegas pipeline is large-scale on-site water-air generation systems for localities within communities are able to be implemented now. Aquaponds can be everywhere for reclamation. These machines currently produce millions of gallons of water per day and are being improved for solar and are in Jakarta, Indonesia and in Greece, with bottling plants that create work.
A demonstration of the technology on site at a proposed Presidential Council in Northeastern Nevada, is an upcoming W.B.N. TAKE PRIDE IN AMERICA Cooperative Conservation event which is expected at a to-be-announced location in Northeastern Nevada, in the midst of a region concerned about exportation of water and increased demands as well as arsenic infiltration in the Central Nevada water region as this red-tagged area needs an immediate solution for arsenic contaminated water.
This global water solution is led by a globally-recognized atmospheric water generation system team of Global Leaders in this field and "This team is our finest global resource team," said W.B.N., a global science cooperative. "These atmospheric water generation systems are being used as we speak to generate pure water, fresh clean air and electricity as a part of the Katrina effort."
COURTESY THE EPA 2006 GLOBAL WARMING CONFERENCES

September

October

November

Beyond
Satellites Document Arctic Warming
COURTESY E.P.A.
Most of the Arctic warmed considerably in the 1990s compared with the 1980s, according to new research from NASA's Goddard Space Flight Center. Researcher Josefino Comiso used satellite measurements of Arctic surface temperatures collected between 1981 and 2001 for his analysis. Comparing the satellite data with longer-term surface measurements, Comiso found that the rate of warming during the last 20 years was eight times larger than that of the past 100 years.

The satellite data show that, per decade, the North American Arctic warmed by 1.06 ºC (1.91 ºF), Eurasia warmed by 0.5 ºC (0.9 ºF), and Greenland showed a slight cooling trend of 0.09 ºC (0.16 ºF).

Over sea ice, annual temperatures climbed by 0.33 ºC (0.59 ºF) per decade, while during the summer months temperatures rose by 1.22 ºC (2.2 ºF) per decade. Rising temperatures over sea ice lengthened the season of ice melting by 10-17 days per decade, and may help explain recent findings that sea ice cover in the Artic is declining by 9 percent per decade, reaching record low levels in 2002. Scientists suggest that this reduction in sea ice cover could lead to even greater warming in the Arctic, as open water absorbs more incoming solar radiation, and hence heat, than does ice.

The research appears in the November 1, 2003 issue of the Journal of Climate (vol. 16, pp. 3498-3510). For more information, visit: http://www.gsfc.nasa.gov/topstory/2003/1023esuice.html.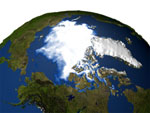 Arctic Global Warming Proceeds Rapidly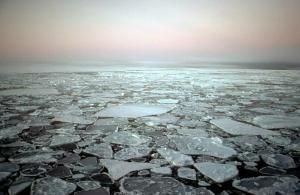 Scientists Determine Global Melting in Arctic Quicker Than Thought
Warm Water Surging into Arctic Ocean
FAIRBANKS, Alaska, September 27, 2006 (ENS) - Surges of warm water from the North Atlantic Ocean are flowing into the Arctic Ocean and could accelerate the melting of Arctic sea ice, according to scientists at the International Arctic Research Center (IARC). The influx of warmer water is increasing, the researchers said Tuesday, and is moving toward Alaska and the Canadian Basin.
The scientists made the observations this fall during an oceanographic cruise aboard a Russian icebreaker as part of the Nansen and Amundsen Basins Observational Systems (NABOS) program. During the last decade the program, along with other research, has shown a steady increase in the movement of warm water into the Arctic Ocean. The readings from this year show unprecedented warmth in some areas, the researchers said.
"The large area of the Arctic Ocean promises to become much warmer," said Igor Polyakov, NABOS principal investigator and a research professor at IARC.
The readings come from observational moorings, which are instrument-bearing buoys that are anchored to the ocean floor and float below the surface of the ocean.
The instruments first detected a surge of abnormal warm water, at mid-ocean depths of about 150 to 800 meters below the surface in February 2004 on the continental slope of the Laptev Sea, north of Siberia.
Sea ice is disappearing in the Arctic Ocean at unprecedented rates. (Photo courtesy Arctic Coring Expedition)
"What we found this year was one of our eastern moorings also showed a warming signal," Polyakov explained.
That finding indicates that the warm water is moving further and further into the Arctic, Polyakov said, a trend that could increase the overall temperature of the Arctic Ocean.
The researchers note that the causes of the influx of warm water will require further study, but say the observations suggest that the Arctic Ocean is moving toward a warmer state, a change that could have global implications.
Ocean temperature in the Arctic is important because it may affect the amount of sea ice in the region. Scientists believe that Arctic sea ice cover plays a major role in the global climate, as ice reflects more of the sun's heat than open water.
Recent research has shown dramatic increases in Arctic sea ice melt, but has also shown that the average temperature of the upper oceans has cooled significantly since 2003. But the findings are not as contradictory as they might seem.
The study of ocean temperatures, released last week, "suggests global warming isn't always steady but happens with occasional 'speed bumps'," said coauthor Josh Willis, a scientist at NASA's Jet Propulsion Laboratory.
"This cooling is probably natural climate variability," Willis said. "The oceans today are still warmer than they were during the 1980s, and most scientists expect the oceans will eventually continue to warm in response to human-induced climate change."
The study found that the average temperature in the upper 2,500 feet of Earth's oceans - an area that represents about 20 percent of the global ocean's average depth - fell 0.055 degrees Fahrenheit from 2003 to 2005.
The recent decrease is a dip equal to about one-fifth of the heat gained by the ocean between 1955 and 2003, but the decline is a fraction of the total ocean warming seen over the previous 48 years, according to the study.
The findings have significant implications for global sea-level rise, Willis added.
Average sea level goes up partly due to warming and thermal expansion of the oceans and partly due to runoff from melting glaciers and ice sheets, he explained, and the recent cooling episode suggests that sea level should have actually decreased in the past two years.
"Despite this, sea level has continued to rise," Willis said. "This may mean that sea level rise has recently shifted from being mostly caused by warming to being dominated by melting. This idea is consistent with recent estimates of ice-mass loss in Antarctica and accelerating ice-mass loss on
Greenland
."
2006 Surface & Tropospheric Temperatures
2006 Monthly Global Surface
Temperature Tracker

2006 Monthly Global Troposphere
Temperature Tracker
(Measured by Satellite for the layer
2-6 miles above the Earth's surface)

July 2006: 1.01°F above the 1880-2005 long-term mean. The 3rd warmest June on record.

June 2006: 1.08°F above the 1880-2005 long-term mean. The 2nd warmest June on record.

May 2006: 0.90°F above the 1880-2005 long-term mean. The 5th warmest May on record.

April 2006: 0.88°F above the 1880-2005 long-term mean. The 7th warmest April on record.

March 2006: 1.01°F above the 1880-2005 long-term mean. The 7th warmest March on record.

February 2006: 0.81°F above the 1880-2005 long-term mean. The 7th warmest February on record.

January 2006: 0.50°F above the 1880-2005 long-term mean. The 13th warmest January on record.

Source: National Climatic Data Center (NCDC)
July 2006: 0.70°F above the 1979-2005 mean. The 2nd warmest June on record.

June 2006: 0.36°F above the 1979-2005 mean. The 5th warmest June on record.

May 2006: 0.09°F above the 1979-2005 mean. The 12th warmest May on record.

April 2006: 0.27°F above the 1979-2005 mean. The 7th warmest April on record.

March 2006: 0.18°F above the 1979-2005 mean. The 10th warmest March on record.

February 2006: 0.23°F above the 1979-2005 mean. The 10th warmest February on record.

January 2006: 0.16°F above the 1979-2005 mean. The 11th warmest January on record.

Source: National Climatic Data Center (NCDC
Financial Assistance - Nevada
Title

Portfolio Standards & Set Asides

Office/Region

Nevada Department of Energy

Description

The renewable portfolio standard requires Nevada utilities to derive a minimum percentage of the total electricity they sell from renewable energy resources. Eligible renewable energy systems include solar (electric and thermal), wind, biomass, and geothermal.

Amounts

50% of the renewable energy that goes toward meeting the portfolio standard must be produced by a solar energy system.

Eligibility

Utilities

Application Deadline

Continuous

URL:

http://energy.state.nv.us/

Contact Information

Tom Wellinghoff
Efficient Energy Systems
(702) 303-7955
or
Nevada Department of Business and Industry
Nevada Energy Office
1050 East Williams, Suite 435
Carson City, NV 89710
Phone: (775) 687-5975