Magazine
The latest in New and Breaking Environmental Solutions, Air to Water, Atmospheric Water Generator and Alternative Energy News
1VCM Environmental News. Vision Council Magazine

Environmental Solutions at Aquaphysics Ending The Global Water Crisis
Planet Water: AWG Global Clearinghouse Prices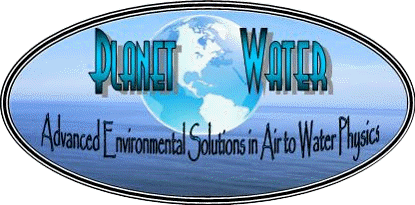 Atmospheric Water Generator Prices Starting at $1289.00 Delivered.
V.C.M. News
Vision Council Magazine
Alternative Energy Expo, Forum.
Environmentally Safe Sustainable Green Energy
Newest Zero C Energy Systems.
Atmospheric Water Generator Solution News
Nano Technology, CNTs and Genome Facts.
Gene Discovery and Bioinformatic Software DNA, RNA Informational
NEWS Services Available
Green Publishing & Editing Solutions
by a Cooperative Conservation, Economic Development Specialist.
Release your environnmental water, energy or physics breaking news stories with us. Free translation services included.
Obama 'Change We Can Believe In' Jet Elko, NV
Official Obama 'Change We Can Believe In' Jet, Elko, NV 9/17/08
The Final Solution to the Global Energy Crisis.™ ®

Crescent Valley, NV, October 30, 2008

As the world clamors for Clean-Energy technology to halt Global warming, environmental degradation, and the economic devastation caused by costly, unclean energy technology; and to provide unlimited green power to sustainably meet Global Energy needs, White Buffalo Nation Inc. (WBN Inc.) and The Consortium of Global H2O (Water) Manufacturers' President and Chief Physicist, Professor Dr. James D. Vagarasoto II announces the corporate declassification and availability of Perpetual Hydrogen Electrical Generation Systems™ technology for immediate Global distribution, catapulting humanity into an unlimited clean energy future today.

Continuing 'Mending the Sacred Hoop of Life,' WBN through a division, TerraLab USA, will be releasing totally green Perpetual Hydrogen Electrical Generation Systems™ technology, quantum-leaping humanity into the future of Zero-E-Energy,™ fulfilling the seemingly impossible dream of limitless clean energy.

The Professor, WBN and The Consortium, an alliance of 17 major international corporations with a presence in over 100 countries and 175 indigenous Nations on 6 continents, continue to lead in implementation of the 'Final Solution to the Global Water Crisis' through small & large-scale Hydrogen-Powered Water Precipitation Generator systems ®, ensuring Global access to water More Pure Than Dew ® from the troposphere in very large amounts.

Dr. James D. Vagarasoto, internationally-recognized as a premiere scientist in Global environmental solutions and Nano research as evidenced by his nomination for the Creative Water Prize for the Prince Sultan Bin Abdulaziz International Creative Prize for Water in Saudi Arabia this year, recognizes the urgency of solving the Global Energy Crisis immediately and is honored to share these historic breakthroughs with the world.

Due to his expertise and dedication to global mending, Da'rrell Starr, West Coast Regional Director of The Consortium of Global H2O (Water) Manufacturers and President of A Veterans Visions, Inc., which provides futures for disabled military veterans, will mediate inquiries by and sales to the U.S. government.

All Tribal, private corporate and foreign government inquiries, please contact Dr. Vagarasoto, TerraLab USA.

WBN Inc. will continue Globally donating Technologically-Advanced Totally-Solar Air to Water Technologies® including all new Air Wells, Dew Ponds and Fog Fences to all Native Nations and Tribes upon request.

Funds generated by the sale of intellectual property associated with this technology, in the continuing effort to Mend The Sacred Hoop of Life, will help fund the White Buffalo Nation's $300 million dollar Aqua-cultural and Agricultural Reclamation Dome ® ear-marked for Northeastern Nevada.
Mr. Vagarasoto, Dean Heller & Sheriff Larry Etter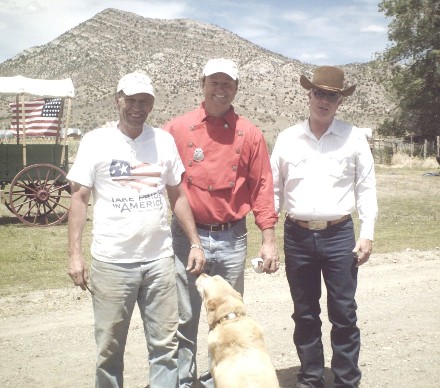 Nevada Sec. of State, Dean Heller with W.B.N. Pres. J.D. Vagarasoto & Etter at 2006 PX Celebration
GRANT APPROVED: W.B.N. IN COOPERATIVE PARTNERSHIP WITH NATIONAL PARK SERVICE FOR THE CREATION OF A HISTORIC PONY EXPRESS TRAIL KIOSK IN EUREKA, NEVADA
July 30, 2006
Crescent Valley, Eureka County, Nevada
by Lisa J. Wolf, Global News Reporter
W.B.N. has entered into a Cooperative Agreement with the National Park Service and has received a Challenge Cost Share Grant Agreement No. Approval to increase public awareness of the Pony Express trail; and to continue to expand support for the Pony Express Trail's complete development; and to install an interpretive kiosk related to the Pony Express Historic Trail in Eureka, Nevada, as well as to encourage local participation in the interpretation, development and protection of the National Historic Trail Systems.
W.B.N. is supported by the National Park Service Challenge Cost Share Program. The contents of this website and W.B.N.'s activities are solely the responsibility of W.B.N. and Vision Council Magazine, a W.B.N. project, and do not necessarily represent the position or policies of the Department of the Interior.
Editor's Note:
As I attended the White House Conference on Cooperative Conservation in St. Louis, on the second day of the Conference, Katrina struck. As a correspondent for the Elko Daily Free Press and Vision Council Magazine, I was the only correspondent there to witness this country's and the Administration's successful cooperative conservation projects and was pleased with what I saw. I remain on very good terms with the White House Council on Environmental Quality, all the represented cabinets, including the Department of Defense and Homeland Security, and particularly as part of W.B.N. am on working terms with the Department of the Interior. W.B.N. believes that once the United States Administration realizes that water generation solutions for the United States and the Globe is such good environmental news which all Americans need after a year plagued by Katrina and an on-going war and higher oil prices, and informative but none-the-less disturbing press coverage of global warming, and since all people need positive solutions presented and implemented which can effect solutions to these mammoth problems, W.B.N. hopes the Administration will take the lead in assisting in atmospheric water generation implementation. These water generation plants are the Globe's solution for cleaner air and pure clean water around the world and can conceivably impact the effects of global warming. "The Earth needs to tap its global reserves of our atmospheric river systems," says W.B.N. President J.D. Vagarasoto II, Phys. Sci. D. W.B.N. may be contacted by e-mail at WBN@USA.COM or by phone, 775-374-0596.
Report by:
Lisa J. Wolf, M.F.A.
Publisher & Global News Reporter
Vision Council Magazine, http://1vcm.tripod.com
Environment News Service Correspondent, ensnews@usa.com,